Elliot Jay Stocks is a veteran speaker, designer and illustrator for over five years. He shares his experience with us in one of our web professional interviews.

Name: Elliot Jay Stocks
Company: n/a
Job Title: Designer / Author / Speaker
Nationality: English
Age: 27
What are your skills: design / illustration / development / writing / speaking / teaching
---
How long have you been a web designer?:
I've been working professionally for 4 and half years, but have been designing sites since 2000, when I was in my last year at school.
About how many sites have you made?:
At a guess, around 100.
What made you want to be a web designer?:
I've always enjoyed making things look nice; that originally started through drawing as a kid, and now continues through design for web and print.
What was the first web site you made?:
It was for my band, Sourhaze. Sadly, that version is no longer online.
What would be the ideal web project for you?:
Working with people who share a passion for creativity and exploring new ways of doing things.
What projects are you currently working on?
I'm putting the finishing touches to my first book, and I'm working on two sites; one for an unreleased computer peripheral, and one for U.S.-based community site.
What is best part of being a web designer?:
The instantaneous global reach of your work, plus the fact that nothing remains the same for too long.
Tell us about your best as experience as a web designer?:
When I got my first job (Junior Designer at EMI Records in 2004), that was a very cool moment, and so were the moments when I got my other jobs. However, going freelance was really great, because I've now got so much more freedom over how I want to live my life. I love speaking on stage; my first big(ish) gig was Future of Web Design New York in November 2007, and that was a fantastic experience.
Tell us about your worst as experience as a web designer?:
Having to deal with clients who don't appreciate your worth. Also, some of the business side of freelancing can be unpleasant, like having to chase clients for payment. From a pure web design perspective, catering for older browsers is always a nightmare.
What are the most important things to learn to be a good web designer?:
How to speak to clients and present clear ideas. It's also important to have a solid understanding of as many web design and development processes as possible. You don't need to know every programming language out there, but if you can't at least write decent HTML and CSS, you're not a web designer.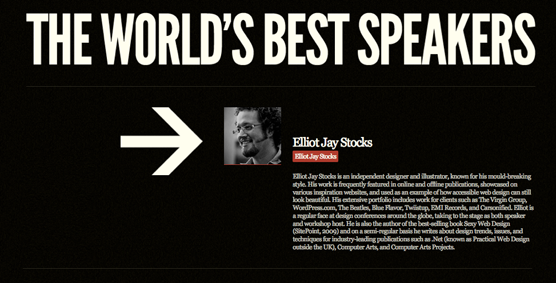 What advise would you give to our Web Courses Bangkok students:?
Try to be different and don't be scared to break from the crowd.
Work for the man before going freelance, as the experience is invaluable.
Portfolios are more important than qualifications, and it's important for your portfolio to be as diverse as possible.
Thank you Elliot, and if you would like more information on Elliot Check out his web site:
http://elliotjaystocks.com
Twitter: http://twitter.com/elliotjaystocks