How to Create a Magazine Cover – Your Photoshop Tutorial
In this photoshop tutorial, we will learn the whole process of designing a computer graphic magazine cover by using Adobe Photoshop, how to retouch smoothing skin, how to edit your retouched picture to be a magazine cover, and how to insert the text. I will take you through the whole process and reveal techniques that designers use to make their covers stand out.
Elements
Credit : Unretouched model picture – Nemesis Model Agency
Credit : Barcode Free Stock Photo – Public Domain Pictures
Credit : CD icon test.svg – Wikimedia Commons
You can download all the files here.
Smoothing skin
If you have a nice picture, but you would like to retouch it to make the skin look smoother, you can follow along with this tutorial.
For the best results, you should use a high resolution image. I use a nice one with a good quality and good composition. The focus point is on her eyes, but she has freckles all over her face. So we are going to edit that.
1. Open the unretouched model picture file from the elements above in Adobe Photoshop. Then copy the picture by dragging the Background layer to the Create a new layer button.
2. I want to erase the big spots first, so I use spot healing brush to remove the big spots, that are easy to notice, by clicking on the spot. You can change the brush size by pressing "[" and "]"on your keyboard.
3. After you finished to erase the spots, hit Cmd/Ctrl+J twice to duplicate 2 more layers. Relabel the first layer to "texture" and unselect the visibility of the texture layer and relabel the second one to "blur" (change the label by double click on the layer name).
4. We are going to working on blur layer. I want to make it blur, so go to Filter > Gaussian Blur… It will show you a pop up then put the number around 5-8 and click OK.
5. Make the texture layer visible. I want to change this layer to be a texture. So go to Image > Apply Image… Change Blending: Subtract, Layer: blur, scale: 2 and Offset: 128 then click OK. The next step is to change the blending mode to Linear Light. You can find this setting in the layer panel. It looks like you have not done anything, right?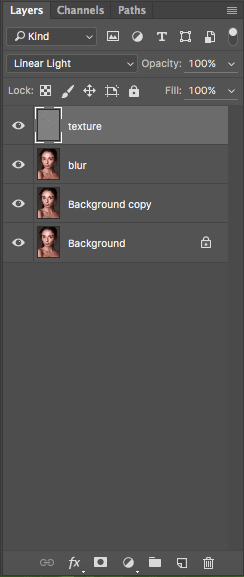 6. Next, we're going to make her skin look smoother. Click blur layer, choose Lasso Tool or press L on the keyboard. On top of the screen you change the feather : 25 px to make the edge of the selection smoother.
7. Draw the shape around the area that you want to make smooth, try to select only the area in which the light does not have too much contrast and stay away from her eyes and mouth, then go to Filter > Gaussian Blur and increase the number or move the slider to right side and click OK.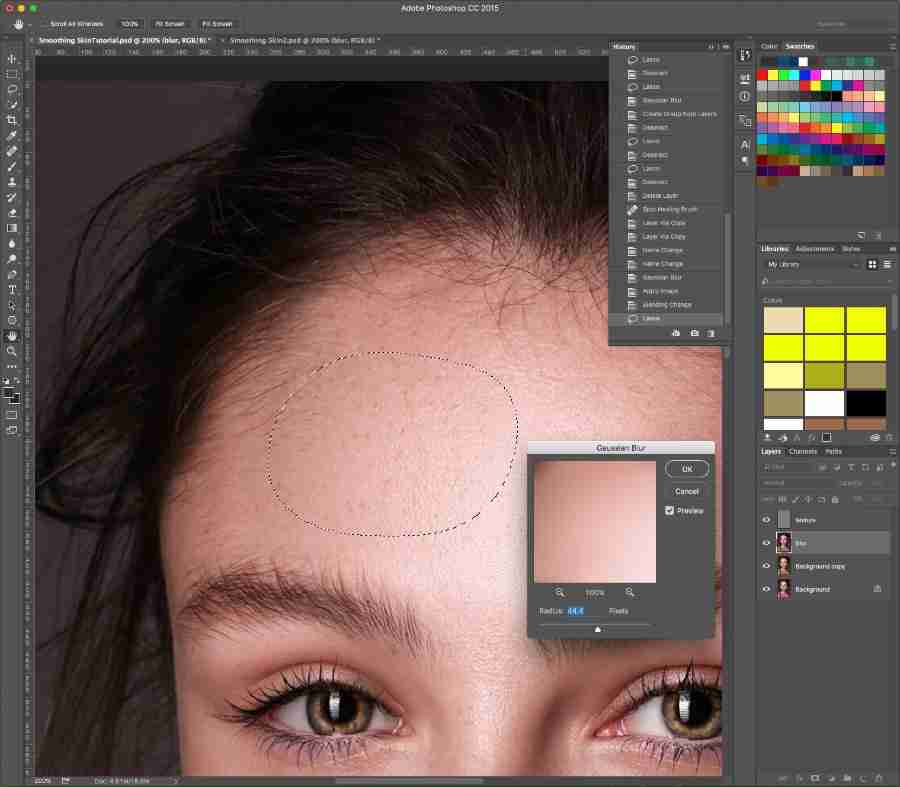 8. Repeat step 8 to make the skin look smooth all over the face. You will see the whole skin look smoother but the texture still remains.
[text-blocks id="59336″]
Start to create magazine cover
We will continue to use the retouched picture to create a magazine cover.
1. Create a new file. Set up canvas as Width : 22 cm, Height : 29 cm, Resolution : 300, Color Mode : RGB. (general magazine size)
2. Paste the girl picture, when finished retouching, on background and hold shift to resize and make it fit to the art board. Go to File > Place Embedded.. And locate your picture file. Relabel to picture.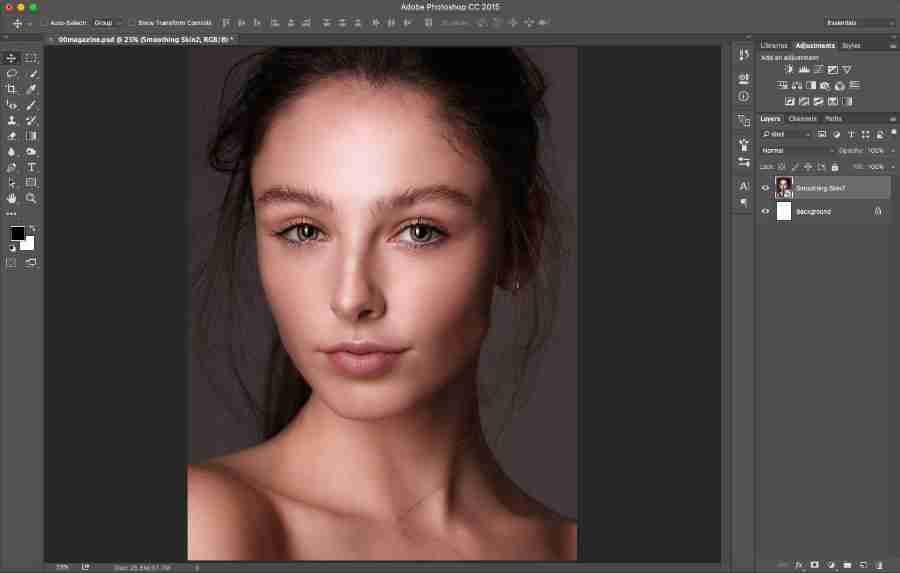 3. At first you will have to set up a guideline by pressing Cmd/Ctrl + R. Place the guideline on the left side of the picture with a few pixels of space. This you will use to align your text. It is time to insert the text. Press "T" (keyboard short cut), type "PHOTOSHOP" change the font to Oswald Bold the font size is 123 pt. And type "Essentials Course" over "PHOTOSHOP", use Droid Serif Bold font, size : 40 pt and type "The course for Adobe Photoshop professionals" under "Photoshop", use Droid Serif Regular font, size : 27 pt. Use white colour for every inserted text.
4. Insert the other text like shown on the pictures (create new text line by press return between typing):
15 : Oswald Bold, 112 pt

PRO TIPS FOR : Oswald Regular, 18 pt

ADJUSTMENTS : Oswald Bold, 16.5 pt

INCREDIBLE COMPOSITES : Oswald Regular, 24 pt

Everything you need to know, from choosing photos to final colour grading : Oswald Light, 10 pt

CARL HEATON'S EXPERT GUIDE TO : Oswald Light, 29 pt

NATURAL RETOUCHING : Oswald Bold, 81 pt
You can arrange the text by using Character Tab (Window > Character). The tool for set the leading is really important to arrange text fields that have more than 1 line. It will close or widen the gap between the different text lines. Every text used Oswald font and only the size and type of font changed(light, regular, bold) depending on which word is more important and attractive.
5. For HOW TO column, you can type the bullet (•) by press Option/Alt + 8 on the keyboard, after you have finished typing the line press return to start another line.
HOW TO : Oswald Bold, 16 pt
Master every cutout tool

Enter our student showcase

Create collage picture

Use Content-Aware Scaling

Male perspective shadows : Oswald Light, 14 pt.
6. I want to create a shape that attracts the eyes immediately, so I create a circle by using the Ellipse Tool, hold shift button and drag the mouse. I changed the colour by double click at the layer and use Eyedropper Tool to select the colour from the skin in midtone area and put it in shadow area to give it a better contrast. Then type
1. LEARN HOW TO CREATE THIS MAGAZINE COVER : Oswald Regular, 20 pt
2. MAGAZINE COVER : Oswald Bold, 30 pt
Separate the line by pressing the return button and rotate it a little bit to make it look more interesting (Press Cmd/Ctrl + T). Again, change the font colour by using Eyedropper Tool to select the colour from the shadow area to achieve a better contrast with the circle background.
7. For the bottom of the page, put the text :
SHARE YOUR ARTWORK NOW VISIT OUR WEBSITE AT :Oswald Regular, 14 pt

www.webcoursesbangkok.com

: Oswald Regular, 13 pt

20 : Oswald Light, 36 pt

Page of professional tips & essential step by step tutorials : Oswald Light, 13 pt.

The arrow you can create that by using

Custom Shape Tool

and

select the Shape

on the top, select

arrow

and

drag to draw

arrow, change to white and rotate it. The white line you can create by using

Rectangle Tool

and do the same thing as you created the arrow.

8. For CD, barcode and logo you can import the pictures by go to File > Place Embedded… and select the file, press OK and resize it by holding shift. Insert following page: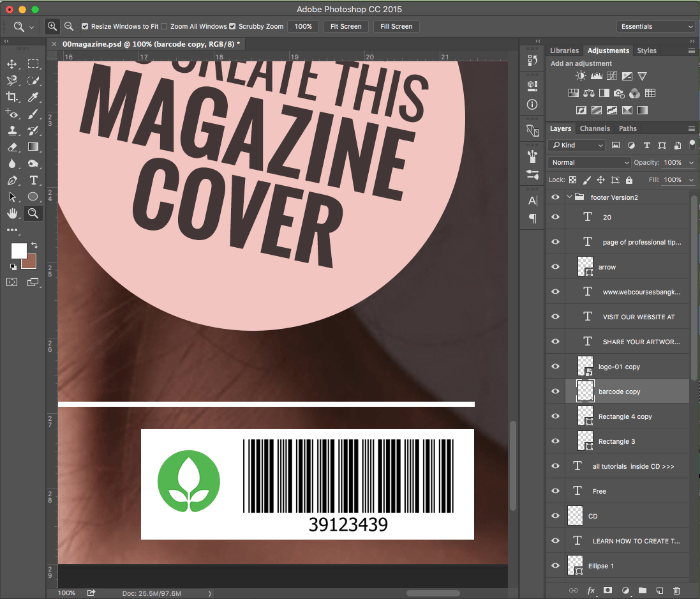 FREE : Oswald Bold, 31.5 pt

all tutorials inside CD >>> : Oswald Light, 14 pt

I also created a white rectangle for the group logo and barcode.
9. Last but not least we want to make the text easier to read and have a focus point on the girl. I will make the top and bottom of the picture darker by transparent and gradient, so I click at picture layer use Rectangle Tool and drag around it around the whole artboard. At Properties Tab, choose Gradient, foreground to transparent, change foreground to black, move the opacity stop slider from the right side to reveal her face (darker only forehead and hair), Linear 90. Then change layer opacity around 70%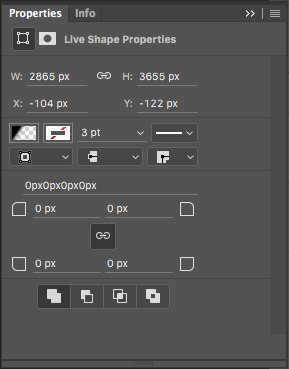 10. Create another Rectangle do the same thing as in Step 9., but change the values of Linear: -90 and opacity to around 30%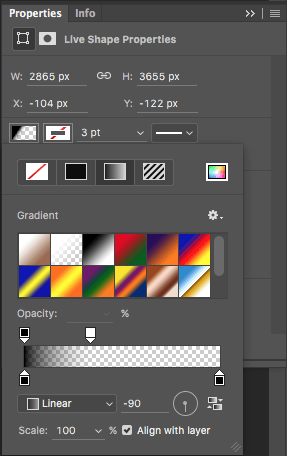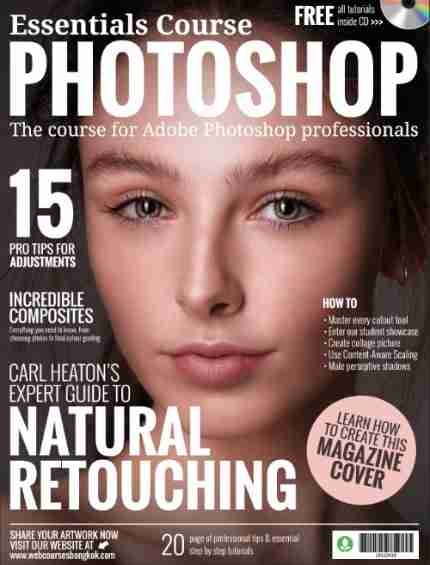 Want to Learn More about Photoshop?
We have a course that will give you the understanding and in-demand skills to use Adobe Photoshop and produce professional designs and images
Update: Looking for a job as a Graphic Designer? Try work at home photoshop on Jooble.
[text-blocks id="course-ad-online-marketing-articles-3″]